Vacuum lifters are an important strength of the Elephant brand lifting system offer.
Safety, precision, speed and efficacy are the main characteristics of this product designed for the industrial and artisan sector to support companies in the production phase and in the handling of loads, including heavy ones, responding positively to any specific need both in relation to capacity and area to be covered with handling interventions.
Our lifting systems are mainly used within warehouses and production areas but they can also be installed outdoors, after undergoing particular painting treatments to guarantee complete resistance to weathering.
How a vacuum lifter works
These are lifting systems based on vacuum technology, often used in the handling of marble, wood, steel, glass and boxes. Being a system that combines speed, practicality and flexibility, it is widely applied in production areas, logistics centres and in industries in general.
During handling operations, the operator and the load are exposed to a very low number of risks: for example, if there is a sudden surge of current, the load remains firmly on the suction cup thanks to the safety devices.
Through the use of different types of vacuum lift systems, it is possible to move a wide variety of materials such as glass, metal, wood and marble.
In addition to standardised solutions, Elephant offers its customers personalised vacuum lifters based on individual handling needs: all our products have the CE Declaration of Conformity and are accompanied by a user and maintenance manual as required by the reference standards.
The vacuum lifter can be powered by an electric vacuum pump or by a compressed air pump (Venturi tube).
Vacuum lifter: frame and Vacuum Circuit
The vacuum lifter consists of a high-strength electro-welded steel frame with a central hook for connection to the lifting device. The hook can have different holes to allow varying inclination of the load.
In addition to the structure and the suction plates, the vacuum circuit is installed on the machine, consisting of:
the safety tank for empty reserve;
the vacuum fall arrest valves;
the vacuum gauge with coloured and graduated scales to monitor the degree of vacuum achieved;
the vacuum generator (powered by an electric or compressed air pump);
the material intake and release valve;
the vacuum distribution circuit, which branches off to the suction plates;
the audible and visual alarm system that automatically signals a low degree of vacuum, signalling to the operator if the gripper has reached a safe condition.
The frame of the vacuum lifter can have multiple shapes and characteristics depending on the applications and needs of the customer: for flat sheet or curved glass, for wooden boards or insulated panels, etc.
In addition to having different characteristics, vacuum lift systems also need to be handled in a different way, such as for example rotation and tilting from the horizontal to the vertical plane.
The offer of Elephant vacuum lift systems
We prepare the offers of our vacuum lift systems with the aim of offering our customers a variety of solutions based on the type of material to be moved and on the type of feed.
You can therefore choose between: wood vacuum lifter, granite and marble vacuum lifter, suction cups for lifting ceramic, glass vacuum lifter, vacuum lifter for sheet metal and suction cups for lifting panels.
Glass vacuum lifter
In the glass industry, the handling of small and large panes is an extremely delicate and important phase as it requires multiple needs for rotation and tilting of the glass, especially for installation on site.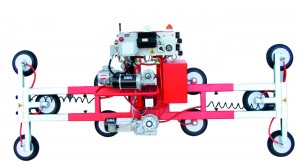 A practical and safe solution for all glass plate handling needs are the vacuum lifters, an under hook accessory that connects to the lifting device and uses the negative pressure of the vacuum to ensure gripping of the material.
You can choose between suction cups for glass intended for indoor environments, glass for building sites and glass for the construction of curtain walls of buildings.
FEATURES OF THE SUCTION CUPS FOR GLASS
The frame of the vacuum lifter for glass is made of electro-welded steel and is equipped with a hook connected to the lifting device, plates for handling loads and a vacuum circuit.
All the vacuum lifters for glass are also equipped with a handle with push-button panel to operate the system quickly and easily.
To meet particular handling needs, the following are also available:
models of suction cups for vertically fixed glass, ideal for large, thin and extremely fragile glass;
suction cups for the vertical lifting of double glazing;
suction cups for the lifting of curved glass.
To facilitate the vertical movement of panes of glass we offer steel grippers as an alternative to the classic suction cups.
POWER SUPPLY
For suction cups for glass we also offer a variety of solutions on the type of power supply, namely:
electric, with manual or electric movements;
compressed air with manual or pneumatic movements;
with rechargeable batteries and autonomous power system.
DISCOVER OUR GLASS VACUUM LIFTERS
MARBLE VACUUM LIFTER

Elephant standard marble vacuum lifters allow the movement of loads with a minimum weight of 80 kg up to a maximum of 2000 kg in addition to rotation of the slabs from 0° to 90°.
FEATURES OF THE MARBLE VACUUM LIFTER
The number of suction cups of the supporting structure varies according to the size of the load to be moved.
Suction cups suitable for the movement of slabs and concrete blocks and particular models used in unloading strips from block-cutting machines are available.
POWER SUPPLY
You can choose models of marble vacuum lifters and concrete with the following types of power supply:
compressed air, with manual or pneumatic movements;
electric, with manual or electric movements;
autonomous with batteries, ideal where energy sources are not available;
manual pump, suitable for handling small-sized material.
DISCOVER OUR SUCTION CUPS FOR MARBLE AND CEMENT
VACUUM LIFTER FOR SHEET METAL
Elephant's standard vacuum lifters for sheet metal use the vacuum of a vacuum generator to quickly and easily move sheets weighing between 125 kg and 2000 kg.



The supporting structure of our suction cups for sheet metal is made with four, six, eight or more adjustable plates.
CHARACTERISTICS OF VACUUM LIFTERS FOR SHEET METAL
The suction cups for sheet metal are available in the fixed horizontal version, with a different structure depending on the size of the sheet, which can be small, medium and large.
POWER SUPPLY
Elephant offers vacuum lifting devices for sheet metal with the following power supply:
electric, with manual or electric movements;
compressed air, with manual or pneumatic movements;
with rechargeable batteries, when there are no energy sources available.
DISCOVER OUR VACUUM LIFTERS FOR SHEET METAL
WOOD VACUUM LIFTER
The Elephant wood vacuum lifters are used to easily lift and move breathable panels, non-breathable panels, doors, tiles, beams and planks (wood, chipboard and ennobled panels).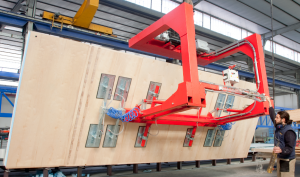 FEATURES OF WOOD VACUUM LIFTER
For this product, one or two suction plates can be mounted, fixed or tilting at 90° or 180°; on the handle of the vacuum lifter for wood there are the controls that allow gripping and release of the material.
POWER SUPPLY
Elephant offers vacuum lift systems for wood with the following power supply:
electric, with manual or electric movements;
compressed air, with manual or pneumatic movements.
DISCOVER OUR WOOD VACUUM LIFTERS
VACUUM LIFT SYSTEMS FOR INSULATED PANELS
The latest product in the Elephant vacuum lifter range is the variant designed for moving sandwich panels and insulated panels with weights up to 400 kg for standard models.


FEATURES OF VACUUM LIFTER FOR PANELS
Particularly suitable for lifting and moving panels during laying operations, they can be equipped with sling bars with suction cups to speed up operations and to minimise the risk of damage to the panels themselves.
Our offer of vacuum lifters for panels includes fixed horizontal solutions and solutions with tipping and rotation for the movement and installation of roof and wall panels with double vacuum circuit.
The panels that can be raised and moved are:
sandwich panels in polyurethane insulation, mineral fibre, glass wool;
sandwich panels with smooth, corrugated, micro-corrugated, tile or corrugated surface.